Home:
New:- It will give you option to choose a new text and time in the given list. you can select time between 1 to 30 minutes. [F2]
Music:- Here you can Enable/Disable music for intro, click, error, etc. [F9]
Choose Text:- You can select any other text also from your computer for typing test. After adding a text in list you will have to select it from list at last index and then click on Start test.
Exit:- Of course it will close Sonma Typing-Expert. [F12]
Language:
English:- It will help you to typing in English language. It is not to used because when you select a text it will automatically set in their corresponding language.
Hindi:- It will help you to typing in Hindi language. But be memorial that setup wizard installed Devlys010 True Text Font given with setup. If not installed properly, please installed it manualy.
Status:
Pause:- This feature will give you pause your typing test till you want. [F5]
Resume:- By using this command you can resume your typing test. [F6]
Speed:
WPM (Words per minute ):- This speed is defined as 1 word = 5 characters (default). You will get it automatically at the end of typing test by pressing Enter key. [F8]
KPM (Keystrokes per minute):- This speed is show in keystrokes press by candidate per minute. [F7]
View Results:- Here you can see your previous result in a window with all text and errors you had typed in that lesson.
Print Results:- Here you can print your previous results.
Calculation Criteria:
A=Total Typed characters (Including Spaces).
B=Total wrong typed words.
C=B*5 (One word means 5 characters).
D=A-C (Total characters after elimination).
E=D/5 (Total words after elimination).
T=Total time taken (minutes).
S=E/T (Words per minute).
Hindi keyboard:-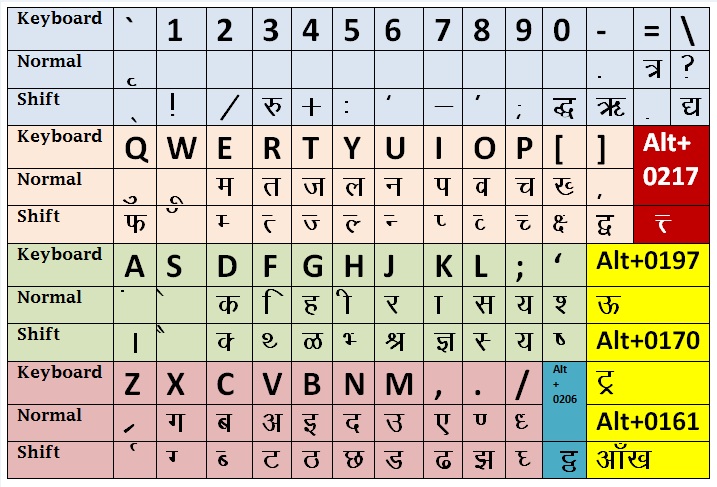 Note:- Please use Hindi Sticker on Keyboard for best Hindi typing.
Set Your Palm on Keyboard:
The best setup of palm can be achieved by using setup given in photo.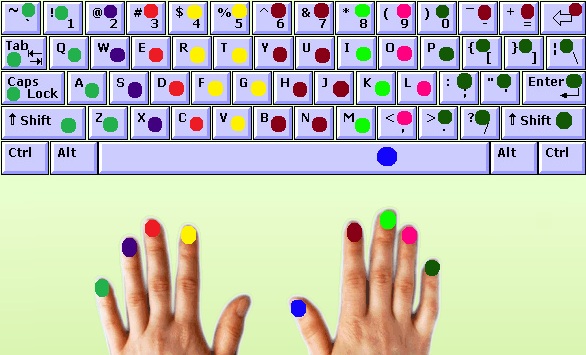 Note:- For Hindi typing, please set your palm on S D F G & K L ; ' instead of A S D F & J K L ; for English typing.
Remarks Criteria:
M=Net Speed (WPM)
(01<=M<=14) = Poor
(15<=M<=19) = Fair
(20<=M<=29) = Good
(30<=M<=34) = Very Good
(35<=M<=…..) = Excellent
Help:
Shortcuts:- Here you can see all shortcuts used in this application. [F11]
Update Now:- By using this you will get a web page on internet where you will get help as well as new versions of Sonma Typing-Expert. It requires internet connection.
About:- You can know about this application development team and its property.
If you need assistance with installing or using this software, please contact our Technical Support Department as follows:-
Mananjaysoft Pvt. Ltd.,
Sonma, Bathnaha,
Sitamarhi,
Bihar, 843302.
India.
Phone : +919097947364, +918051883471
Email :- Kumardhananjay637@gmail.com
Web :- http://www.sonma.mobie.in
Copyright © 2013-2015 Mananjaysoft Pvt. Ltd.
All Rights Reserved
***